Awarness for skin care products and anti aging treatments,  has also increased significantly among men in recent years.
The changed work environment and the active leisure activities, have led men to look at their bodies differently. The skin structure of men is slightly different from that of women. Men have thicker skin. In addition, men's skin produces more collagen than that of women. This has the advantage that men's skin does not begin to age until the mid-30s.
Men's skin is usually oily, but low in moisture. This has to do with the now widespread, fully air-conditioned offices, air conditioning in the car, which also dehumidifies, and sun and wind exposure in the leisure activities.
Men generally do not want to use greasy creams, except in the cold season, as protection against wind and weather.
They also need to look after their skin, since even with men, without good care, the skin aging process can accelerate rapidly from the age of 30. It is reccomended to use natural care products, because they have many advantages. One is, that they do not contain petroleum oils, parabens sulfates or other harmful substances. You should avoid using skin care products that conain alcohol, since alcohol can destroy the protective acid mantle of the skin.
Natural Care - Also for men!
With the multitude of products that are currently on the market for men, it is not easy to filter out the right one, especially if you do not want to spend too much time on the search.
Although men's skin is thicker, harmful substances can of course cause as much harm as they do to womens skin. For this reason, we have devoted ourselves to the development of natural care products that are safe for both men and women. Our organic and vegan-certified cosmetics, are suitable for both genders, of course there are some products that we have developed, that are especially appealing to men, due to scent or texture. 
Many of our products have a great anti-aging effect due to the great combination of active, organic ingredients.
Products containing hyaluronic acid are recommended for men from the age of 30. Even in men, the hyaluronic acid stores are broken down from this age.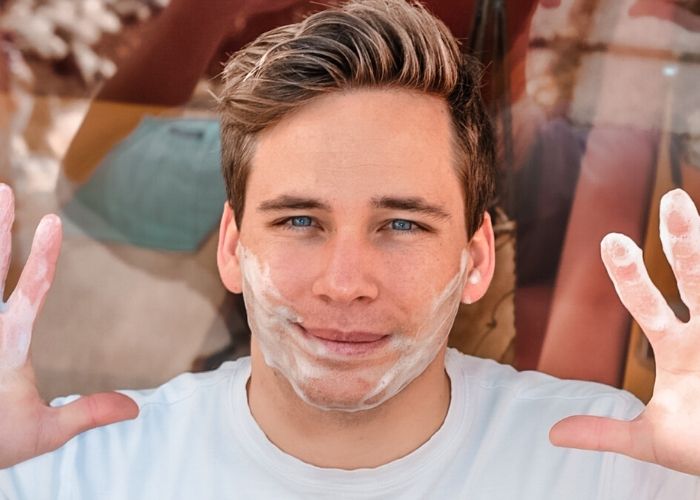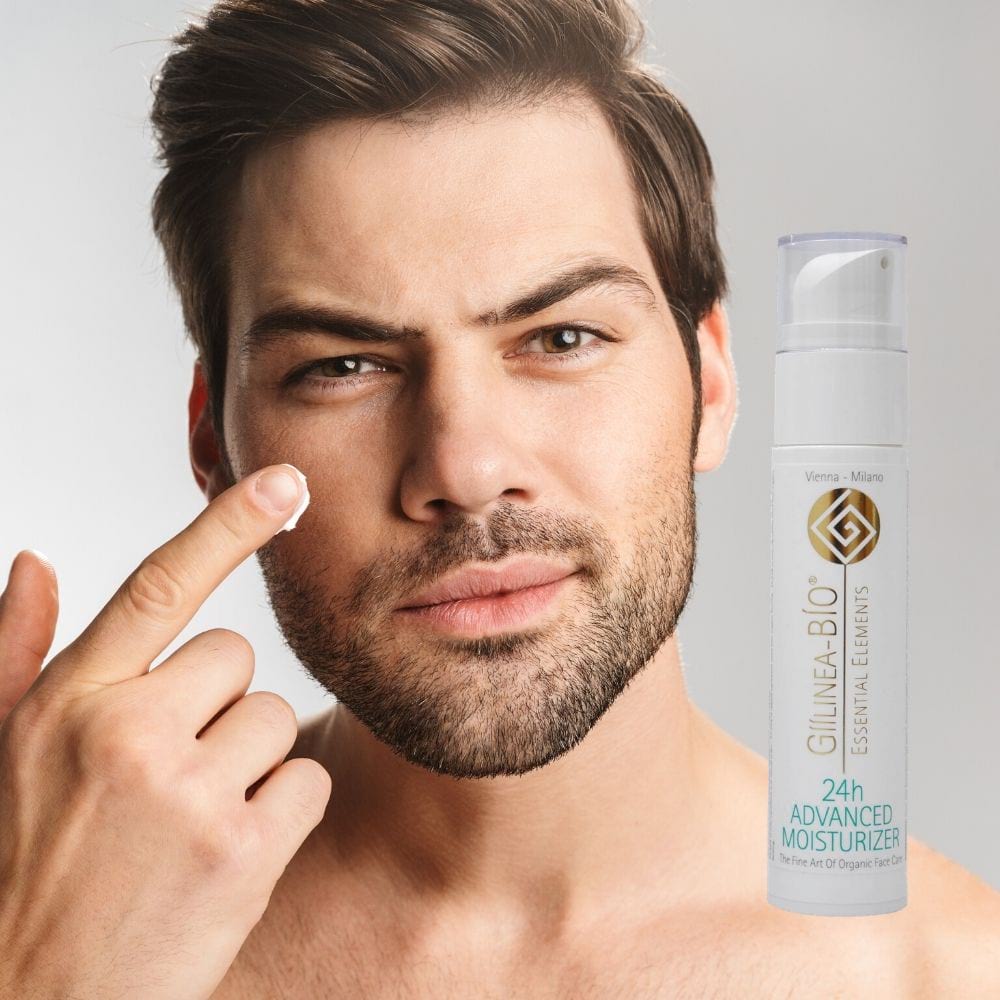 Skin Care products that are tailored for men!
A first, simple and easy to use care recommendation would be
Gentle Cleansing Foam,
which is also suitable as a shaving foam that men with sensitive skin are very fond of.
Apply sparingly in circular motions, just like washing your face, then wash off with lukewarm water.
Face tonic, gives the skin balance and a boost of freshness, it prepares the skin for the following care.
24h Advanced Moisturizer is very popular among men, it is a very effective day and night care. The 24-hour moisturizer provides moisture and smoothes the complexion. Its scent is also very appealing for men. 24h Advanced Moisturizer from GÍÍLINEA BÍO is absorbed immediately and does not make the skin feel greasy.
It makes the skin look fresher, smoother and well groomed. Hyaluronic acid and pomegranate, combined with fresh aloe vera gel, it can help against premature skin aging, which isnt a bad side effect after all. 
The Anti-Aging Gel for the face is also very popular among men. It is often used after shaving, because it has a very cooling and calming action. The main ingredient of the products is aloe vera, which has a very calming and anti-inflammatory effect on the skin.
Body and Skincare for men!
Even when it comes to hair care, more and more men value natural products. We use cold-pressed oils such as olive oil, sunflower oil and peppermint oil in our hair care. Peppermint oil is known to increase blood circulation and can therefor strengthen the hair and give it more volume.
The GÍÍLINEA BÍO styling wax is also very popular among men, it contains carnauba wax and silica. It gives the styling a strong hold and strengthens the hair tips.
Many men also take personal care and hygiene more and more seriously, but there is also a large selection of products on the market with a wide variety of ingredients. The demand for products with natural ingredients is also increasing here. We at GÍÍLINEA BÍO have also given a lot of thought to this! For this reason, we are proud to offer a range of personal care products such as Bath and Shower Gel, Body Gel and Body Lotion, which are also suitable for men.
Products that are suitable for men!